Good afternoon, my name is Lisa Brown and for those of you that do not know I am Fred's daughter..………..So, I know that if my Dad was doing a speech of any kind he would probably open with a joke…… Dad and I are very similar in lots of ways but today I will avoid the temptation of a Dad joke and begin by expressing my sincere gratitude to you for coming today to help me celebrate my Dad/Fred Brown's life. Some of you have literally travelled from the other side of the World, others from London or even further afield. Wherever you have travelled from, near or far, I thank you from the bottom of my heart for taking the time out of your life to join me here today.
So, where do I start regarding Frederick Carl Brown, Fredericko, Snake Hips Brown, Fred or to me simply my Dad? Those of you that know me personally will know that I love to chat and jibber jabber and tell stories just like my old man but apparently this place is extremely busy and I have been told it is one in and one out and no messing about and so I will uncharacteristically attempt to stick to the point and stop 'F' in' around as my Dad would say.
My Dad was born in the famous Northern English fishing village of Whitby and lived there until the age of 15. My Grandfather was a very strict man and also happened to be the Chief Of Police for the area. One of my favorite stories about Dad as a boy was the one he tells about the time him and his mates were messing around and each stole a dodgem car from the visiting fair and raced them, sparks flying, down one of the steep, narrow and curvy roads that the town is famous for. You can imagine the trouble my Dad was in when the Chief of Police found out who the culprits were. Dad said it wasn't long after this that he decided to escape and join the Royal Navy at the ripe old age of 15.
My Dad was in the Royal Navy for 25 years and it was, after Mum and I, the love of his life. He travelled and sailed the World and had a wanderlust, sense of adventure, love of boozers, people and partying that I have inherited from him. My Dad's love of boozers led him to The Clarry Pub in Redcar where he met my Mum Jean Elizabeth Brown.
My Dad was always a very clean, well-groomed man and as such he always went out to meet ladies at these boozers with his toothbrush in his pocket. I know the night my Dad met my Mum he had his toothbrush in his pocket. Dad was also evidently a very confident and well prepared man! I think the fresh breath; cockiness, clean teeth and the cheeky grin he always sported won my mum over. My Mum and Dad got married pretty quickly after that and yours truly came along just a year later. My Dad has always told me that he and Mum had a very happy marriage and I feel so very lucky to have had them as parents. They both wrapped me up in as much love as they possibly could …… even during my late teens after crashing their car and running off to Majorca whilst I was in the middle of my raving, nightclubbing, day clubbing, crazy chick era.
My Dad took his rebellious daughter in his stride. In fact, he always took everything in his stride. The way that my Dad viewed the World and problems that came along is nothing but pure inspiration for the rest of us. As many of you will know we nearly lost Dad 9 years ago when he was critically ill and got septicemia. The way that my Dad fought and pulled though and the manner in which he approached his recovery was one of ease and grace and strength. He never, ever let anything get him down and he always would say to me: 'Don't worry pet, I'll 'ack it love'. Which, for my Southern English and Australian friends means: "I will handle, manage or beat it, it is not a problem'. In fact he also actually said this to me 3 days before we finally lost him.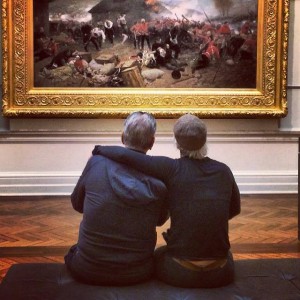 My Dad also applied his positive way of thinking to looking after and taking care of my beautiful Mum as she fought and ultimately lost her own battle with cancer. He was a loving, dedicated and caring husband. He held the space for Mum and totally embraced the marriage vows of 'to have and to hold, in sickness and in health'. I think that we can learn a lot from my Dad and the way he approached and handled the shitty cards that life dealt him. I, for one, want my Dads legacy to be one of strength and positivity when faced with adversity. I have made a promise to him to become more like him in this aspect. And I invite you to do the same. I think that Rumi totally nails this concept in his famous poem The Guesthouse that I will now read to you.
The Guest House by Rumi
This being human is a guest house
Every morning a new arrival. 


A joy, a depression, a meanness, 

some momentary awareness comes 

as an unexpected visitor. 

Welcome and entertain them all
Even if they're a crowd of sorrows, 

who violently sweep your house
empty of its furniture, 

still, treat each guest honorably. 

He may be clearing you out 
for some new delight. 


The dark thought, the shame, the malice, 

meet them at the door laughing, 

and invite them in. 


Be grateful for whoever comes, 

because each has been sent 

as a guide from beyond.
After Mum left her physical body Dad and I grew even closer and as many of you know he visited me in Australia on many occasions. I have such awesome memoires of the times we spent together there. I am a personal trainer in Sydney and I loved, loved and loved training my Dad after he had his hip operation a couple of years ago. He was, without a doubt, my most favorite client. I had him squatting, pushing, pulling and doing stair workouts! At 81 years of age he was my oldest client and in all honesty moved better than some of the 20 year olds I have trained. It was an absolute honor and privilege to have worked with him and I was so happy when my most valuable client 'did his homework' when he returned home and worked through the weekly program I had written for him using the equipment I bought for him in the shed. I was so proud!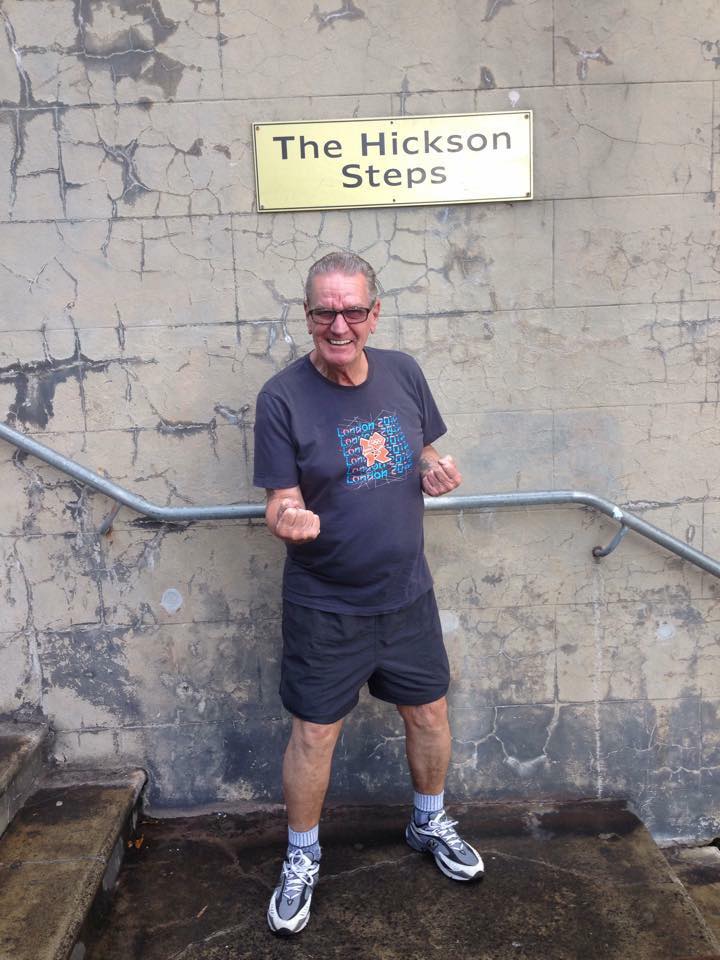 I am so proud to have had Fred as my Dad. I do fancy myself as a bit of a wordsmith but I honesty cannot find the language to articulate the love I feel in my heart for this man. Losing Dad has left a massive whole in my heart but I am so bloody grateful for the love I have for him and the love he had for me. I am so lucky to have known this type of love. To love anyone: be it a lover, a friend, or a family member means making yourself vulnerable and because of that when they are no longer around you it is going to hurt and ache. But as Lord Tennyson so accurately stated:
I hold it true, whate'er befall;
I feel it when I sorrow most;
'Tis better to have loved and lost
Than never to have loved at all.
I want to finish by reading one of my favorite stories to you now. This story is called The Perfect Heart and it features on https://paulocoelhoblog.com
A young man was standing in the middle of the town proclaiming that he had the most beautiful heart in the whole valley. A large crowd gathered and they all admired his heart for it was perfect. There was not a mark or a flaw in it.
But an old man appeared at the front of the crowd and said,
"Your heart is not nearly as beautiful as mine."
The crowd and the young man looked at the old man's heart. It was beating strongly but full of scars. It had places where pieces had been removed and other pieces put in … but they didn't fit quite right and there were several jagged edges. The young man looked at the old man's heart and laughed.
"You must be joking," he said. "Compare your heart with mine … mine is perfect and yours is a mess of scars and tears."
"Yes," said the old man, "Yours is perfect looking … but I would never trade with you. You see, every scar represents a person to whom I have given my love….. I tear out a piece of my heart and give it to them … and often they give me a piece of their heart which fits into the empty place in my heart but because the pieces aren't exact, I have some rough edges.
"Sometimes I have given pieces of my heart away … and the other person hasn't returned a piece of his heart to me. These are the empty gouges … giving love is taking a chance. Although these gouges are painful, they stay open, reminding me of the love I have for these people too … and I hope someday they may return and fill the space I have waiting. So now do you see what true beauty is?"
The young man stood silently with tears running down his cheeks. He walked up to the old man, reached into his perfect young and beautiful heart, and ripped a piece out. He offered it to the old man.
The old man took his offering, placed it in his heart and then took a piece from his old scarred heart and placed it in the wound in the young man's heart.
It fit …..but not perfectly, as there were some jagged edges.
The young man looked at his heart, not perfect anymore but more beautiful than ever, since love from the old man's heart flowed into his.
I think you will understand why I have read this story and I know that you will appreciate that I have the most perfect heart as my Dad has the biggest piece of it……….
When we leave this room and wish Fred Brown a safe journey moving forward, I will be taking a piece of my heart and I will be giving it to my Dad. If it feels right to you I invite you to do the same. I thank you for listening and I will see you all later for a well needed hug and beer.