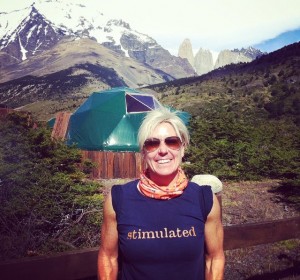 I have just returned from THE BEST trip to Antarctica and South America. This amazing 6-week journey saw me kayaking through icebergs in the waters of the breathtakingly beautiful Continent that is Antarctica, trekking alongside Chilean glaciers in Torres Del Paine National Park, struggling at altitude up steps on my way to Dead Woman's Pass and ultimately the iconic Machu Picchu in Peru. I also managed to visit a couple of cities and numerous other venues on my journey. If you want to have a look at the pictures telling the story of this epic expedition then please feel free to check out my Instagram account: https://instagram.com/lisaatinnervate
I want to write about something that happened at the end of my trek in Chile. It was not really a big deal in all honesty but something around it and how I reacted/responded to it got me in a real reflective mood.
One of the guides on my trek was a 21 year old, English, rock-climbing addict called Tom. Tom is one of those strong, silent types. He has an unusually large frame for a rock climber. His physique plus his temperament (and possibly his crazy ginger dreadlocked hair) all add up to giving the illusion of a man who is much older than his years. I liked Tom; I got him talking about climbing. I do not know much about it and was interested to learn. He came across as quite shy at first and some might say rude but I knew that he was simply a guy that didn't need/like to talk much. I think it is pretty obvious that I like to chat and therefore I know I chewed the poor guy's ears off on a regular basis while walking.
Something died that night drinking red wine and talking with Tom. However, it was replaced with something else…………
On the last night of the trek I was sitting with my trekking buddies and Tom drinking big fat glasses of Chilean red wine. I was buying Tom drinks and he was chatting more than usual. We got to talking music, he told me he was into drum and bass. I said I was into house. Then something happened which made me suddenly realise some big stuff, life stuff, ya know…….. looking back at life stuff.
I started talking to Tom about music, the rave scene, the buzz of the late 80's early 90's……….. Yeah man, it wasn't like it is now, we could dance all night for cheap. The people were so friendly, even football hooligans were hugging each other. The vibe, the tunes, the clubs and the raves were like you wouldn't believe……….
This soliloquy/jibber jabber probably went on for a good 5 minutes with Tom politely nodding at the appropriate moments.
Then all of sudden I caught myself………
FARK…….. I AM OLD
I am like one of those 'old' people that talk about Woodstock, The Stones, the 60's……… Yeah man the drugs were amazing dude. Everyone loved each other. Life was cool man……
You know when you sorta step outside of yourself and observe the scene with you in it? I totally stopped mid sentence and heard the jibber jabber coming out of my mouth and observed this poor, 21 year old, drum and bass fan courteously smiling and listening.
It was such a big realisation for me, but one (when I think about it) that has been coming for a while.
I am getting older ……………
I am, what some would term: middle aged. Ouch, even typing that makes me squirm.
I can't drink alcohol and party like before (it makes me feel depressed and like shit for days if I try to go as hard as I used to)
It takes me 10 minutes to warm up and mobilise before lifting
It takes me longer to recover after lifting
My skin looks weathered and grey if I don't get enough shut eye
I cannot keep up/pace many of my clients during sprint sessions
I do not like drum and bass
I cannot do an impromptu, solo, half marathon trail run in Torres Del Paine National Park get FREEZING cold at the top (Las Torres) and then expect to run back down injury free.
And so, all of a sudden, it hit me, all at once, mid sentence whilst talking about an illegal warehouse party I had gone to in 1989.
I am getting older.
Who knew?
I didn't, until that very moment.
Something died that night drinking red wine and talking with Tom. However, it was replaced with something else…………
I run a successful Personal Training business in Sydney
I can lift…… heavy
I can sprint
I can afford good quality big fat glasses of red wine
I do not like drum and bass
I am in amazing shape physically, spiritually and mentally
I know myself
I am happy
I love myself
It has taken me 42 years to get here.
Pretty cool right?????????
I reckon that if you train regularly, if you get enough sleep, if you control your stress, eat right, love yourself and surround yourself with as much positivity and light as possible there is no need to worry about the effects of aging. All stages in life provide different experiences and opportunities to learn.
I guess I need to remember this if I am ever faced with the prospect of trying to connect with a massive, rock climbing, drum and bass loving 21 year old from Okehampton, England. You can have your drum and bass mate, I'm pretty excited about this next stage in my life and where it's gonna take me. I survived my 20's, have done the physical and mental work during my dirty thirties and am lucky enough to head into the next stage with a strong body and bunch of learning in my backpack and I say…. Bring on middle age!!!!!!!!
Jibber jabber over n out