This is the story of 6 Innervate Health and Fitness personal training Sydney clients (and one Sydney Personal Trainer : Lisa Brown) and their individual journeys during a 12 week wellness challenge of: no wheat, no processed sugar, no alcohol and of course training hard.
How Natalie regained her pre pregnancy body
Why did you decide to get involved in the 12 week wellness challenge?
I'm Natalie, I am a working mum of 2 living with an endurance running junkie! I've been training with Lisa for 7 years and when she spoke to me about the challenge I was at the end of my maternity leave for my second child and I wanted to get my pre pregnancy body back. I'd been promoted whilst I was off work and was about to return to a new full time role. Essentially, I wanted to fit back into all my work clothes! But I'd also been lacking energy whilst on maternity leave and wanted to make some changes to my eating habits which would mean I could survive a full on week at work and the sleepless nights that go with a new baby.
What exercise did you do outside of your personal training sessions?
The challenge coincided with my return to work after maternity leave so doing a lot of exercise outside of the training sessions with Lisa wasn't a priority for me. I'd signed up to do the 55km Coastrek walk as well which was on Week 5 of the challenge. So I was training for that and completed it. For the rest of the challenge, my family, work, nutrition and the sessions with Lisa were my priorities – in that order! I did manage 1 interval session (either running or on the bike) each week and the very occasional yoga class.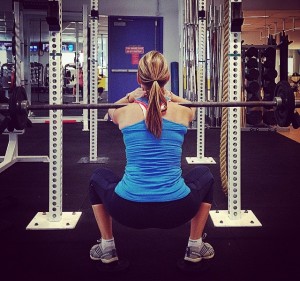 Tell us about the nutrition side:
Once I was in the swing of things, the nutrition wasn't that hard. Prior to the challenge starting I had already started having green smoothies for breakfast and our family dinners were already fairly challenge friendly. I'm not a big drinker and had just come out of the 40th birthday party circuit and Christmas season, so I didn't miss the alcohol. Eggs became my best friend but I did miss bread! Vegemite toast…mmmmmm.
I fit into all my pre pregnancy clothes! I definitely had more energy and felt a lot more balance. I also now have the tools to maintain some great new food habits.
What was the best thing about the challenge?
I fit into all my pre pregnancy clothes! I definitely had more energy and felt a lot more balance. I also now have the tools to maintain some great new food habits.
What were the biggest challenges/obstacles you faced?
Week 3 of the challenge and of my new job job, my 10 month old daughter was admitted to hospital for 5 days. It definitely threw a spanner in the works. But I was surprised at how well my family and I coped and that I could stick to the challenge when our routine was out of the window.
We also did the challenge over Easter. So a chocolate and hot cross bun free Easter wasn't that easy. Some I quit sugar spiced muffins really didn't cut the mustard! I was saved by a lovely friend making Pete Evan's Paleo mousse which was an amazing substitute.
What did you learn?
Preparation is key. You need to have the right food in the house and plan your weekly meals. There are also some amazing resources out there so I definitely used them as it is frightening how many products have hidden gluten and sugar. I learnt that as the weeks went on the sugar free treats that I would sometimes make (such as sweet potato brownies) would taste better and better, although my partner wouldn't necessarily agree!
It also helped me enormously knowing I was doing this with others to keep me accountable to them and myself.
What physical results did you get?
I lost 3.3kg but gained muscle and lost fat. I got my pre pregnancy body back.
What advice would you give others?
It is not that hard to make some subtle changes to your exercise and nutrition to get results.
How has it been for you since the challenge finished?
I have not been as strict with my nutrition or exercise since the challenge finished. So I need to get back into the swing of that. But it has made me realise how certain foods make me feel. I had a piece of cake the other day and felt awful for the whole day.
What now?
Now…we're renovating our house so yet another ball to juggle. But my intention is make the key elements of the challenge – no wheat, no sugar and alcohol only on special occasions – my new normal.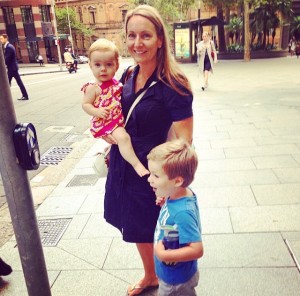 Would you do something like this again?
I definitely would do it again. But I think I need the support and motivation of a group of like minded people like we had to help me through. I'd also be interested to see the results if I could fit in more exercise each week.
Have you had a baby and are keen to regain your pre pregnancy body like Natalie? Get in touch and we will help you achieve just that.