meet the innervate team
Feedback has shown that new clients are interested in the personality and background of our trainers. They trust us to match them with the right trainer with the appropriate qualifications (and character) to suit their individual needs. This is why we decided not to list professional qualifications here. With this said, it's important to us that you know that all of the team are registered, insured and first aided up to the max and if it's effective and/or current we offer it, have done the course and got the lil or big badge to prove it*
* If you would like to know exactly what specific qualifications your trainer holds we are happy to provide these for you.
---
personalities, backgrounds, pics
lisa brown director
My intention with Innervate is to provide THE BEST trainers so that we can inspire, motivate and educate as many people as possible into making healthy lifestyle choices.I would consider myself to be in pretty good shape these days (you would hope so… being a trainer and all!) but this has not always been the case. I was an overweight teenager; my nickname at school was 'Titanic' (kids can be so cruel). My overweight school years carried on into my 20's and beyond. I struggled with the eating disorder bulimia from school days right up until my mid 30's. I made a massive shift and want to help you do the same.
I'm the type of girl that enjoys a good glass of red and a good chat (I have to be honest and admit that I am a bit of a 'chatterbox charlie'… just not when we are training). I love high quality and 'low grade' chocolate, in fact any type of chocolate. I enjoy my treats and understand and empathize that you will too… it's simply knowing how much and when you can indulge. I'll train you hard (but cook you just right) so that you can sit back, glass in hand (if that's your thing) and really relax knowing that you have a strong, healthy body that deserves the treats that life has to offer.Please trust me when I tell you that it is NEVER too late to make changes and create a shift, like I did. Hear more about my journey click here.
---
jean alvisse
Jean is a 'gentle but tough when necessary' trainer. She is a hard working, busy, popular member of the team and looks after a large number of our clients. Her retention rate is staggering as people simply love her warm, quiet, empathetic but strong style of training. However, don't be fooled by her gentle exterior, she is a kick ass Brazilian Ju Jitsu champion and martial arts trainer. Her journey into health, fitness and martial arts started with a simple self-defense class.Jean's sidekick is her dog Zasha. One of our clients brought Zasha to our attention as she was found in an abandoned warehouse last year. Jean decided to rescue her, pay for her treatment and rehabilitate her into the smiley pooch she is today. She will blush when she reads this… but I have gotta say that this is simply indicative of the type of person she is.
Jean in action:
---
josie andrici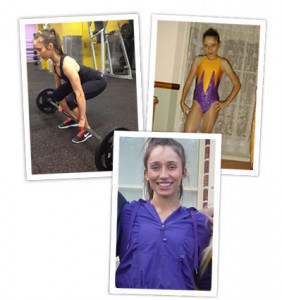 A personal trainer plus holistic practitioner! Josie is a fully qualified naturopath and brings this knowledge to you. She believes that the ONLY way to see long-term results is to adopt a holistic approach to body transformation, nutrition, supplementation and optimal lifestyle habits. Josie helps you understand how to implement all of these things into your schedule in order to get rocking results.She is an avid scholar and reader who is always keen to learn and adopt new ideas and techniques. Josie is a no-nonsense, technical trainer. She delivers sessions with her trademark smiley but firm manner and she loves to educate clients as well as simply train them.
She is a 'lil pocket rocket' and can pack a punch and lift heavy stuff… really well. This stems from a childhood of competitive aerobics that lead to weight training in high school from where she was hooked.
Josie in action:
---
nina price
Never one to sit still, Nina has trained and takes part in all of the following: Brazilian Jiu Jitsu, Muay Thai, running, target shooting, Karate, Taekwondo, Capoeira, triathlons, adventure racing and Kick Boxing…. phew!As well as being a busy outdoor personal trainer for Innervate she delivers classes at Madonna's new gym, Hard Candy. Nina teaches the Warrior 360 and Fight Fit classes.
Nina likes to train her clients the ways she trains herself: using high energy, functional multi plane, full body movements to keep things varied and fun. She has a sweet, quiet temperament but trains her clients hard and makes them work… don't be fooled. Tough trainers can come in small packages, Nina is one of them.
Nina in action:
---
leroy brown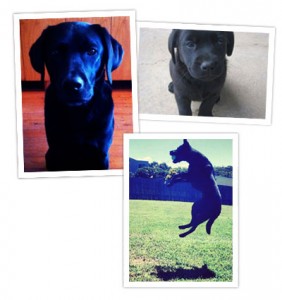 Leroy is a very energetic and happy member of the team. The Coogee outdoor group and personal training clients know him very well as his specialism is the famous Coogee stairs (affectionately known as the 'stairs of death' at 240+ steps). His clients gasp in delight when they see him, as they know they will be happily joining him on the legendary flight of stairs.Leroy is the fastest of all of the Innervate team but he is not the trainer to approach for advice about nutrition. Leroy is a Labrador Retriever and thus will encourage you to eat everything you can sniff, find or forage for in a bush. On one occasion whilst doing hill sprints, Leroy was found in the middle of a random family picnic with a full chicken in his mouth and his paw in the hummus. Therefore, I am sure you will agree that training with him is certainly never boring or dull.
Leroy likes to chase balls, eat banana bread and lick your legs when they are sweaty after a session (FYI there is no extra charge for this service).
---
oscar biet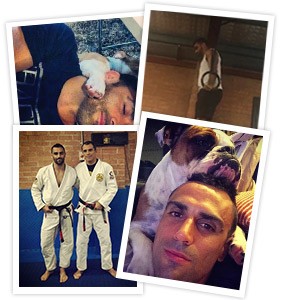 Oscar is our resident Exercise Scientist and holds a Masters in the subject, however he is much more than simply a fitness nerd. This guy holds a Brazilian Jiu Jitsu Black Belt. If you know anything at all about the sport you will know what an amazing accomplishment this is. He can also lift heavy stuff and knock out back to back ring muscle ups. All of this aside, Oscar is a really humble guy with a sweet disposition. He brings his fitness knowledge, chilled and calm demeanour to all sessions and puts all of his clients, regardless of fitness levels, at ease.
---
helen katsoulis
Helen had zero core strength and the news that she was required to start from 'square one' and totally rebuild her body. This was due to a horrific back injury she sustained whilst performing a stunt that went badly wrong at a Summer camp in California. This event and the subsequent rehab and prehab lead Helen to become the personal trainer and Pilates instructor she is today. She has worked hard to rid herself of the debilitating pain in her spine. This inspirational trainer can now Powerlift really heavy weights (squat, deadlift and bench press). She hopes to competes in a Muay Thai boxing match and is a walking advertisement that anyone can achieve anything they put their mind to.
Helen in action:
---
clare sheridan
Clare is our Crossfit trainer. She will be the first to admit she LOVES everything and anything Crossfit related and trains the house down every time she gets stuck into a WOD (workout of the day). Clare is such a passionate personal trainer, she makes it her business to get our clients moving to the best of their ability. She has a massive array of corrective exercises, stretches and mobilisations in her repertoire. She coaches and teaches with an infectious enthusiasm that translates to all levels of fitness and ability.
---
leo moussa
Leo's enthusiasm and excitement about all things fitness is totally contagious. His caring, sensitive and empathetic personality is felt by everyone he comes into contact with. Make no mistake however, this guy trains hard and can move, and move extremely quickly. This hasn't always been the case. Leo was the only one of his friendship group growing up that was overweight and out of shape. One day he literally decided to create change in his life and so he did. He changed his eating habits and started moving on a regular basis. You can see from his pictures that this has worked out extremely well for him! He leads by example and shares his own personal experience and knowledge of transformation with clients and gets kick ass results in return.
---
todd johnston
Todd has been in the business of fitness for over 12 years. He is the most experienced personal trainer on the team. This guy knows his stuff and has seen it all. It is a simple as that. He has worked with all manner of people, injuries, goals and bodies. He is a really chilled out guy who uses his vast technical knowledge and applies this to you and whatever you want to achieve. Tell him what you want and he will tell you what you need to do to get there. He has this awesome energy about him, an energy that puts everyone around him at ease.
---
anthony thompson
Anthony is not just an endurance junkie, he is an ultra endurance junkie. If there is an outdoor challenge he has most probably slayed it: obstacle races, trail running, 100km races, adventure races, long haul treks etc etc etc…. You get my drift? Anthony works with our runners and specialises in getting them race ready and ready to rock! He knows first hand what goes into the preparation for a 10km, half marathon, full marathon and beyond. He brings his specialist knowledge to his clients and makes sure that all boxes are ticked: stability, mobility, strength, glute activation, core etc. All of these things are essential to pain free racing and running.
---
owen partridge
Owen is our resident boxing, kickboxing and Muay Thai (Thai boxing) expert. He is an authentic martial arts instructor (FYI there is a massive difference between a personal trainer that can do a bit of boxing and an authentic boxing trainer). Don't be intimidated by this though as he looks after beginners too and is a pretty gentle, quietly spoken bloke. He will teach you the correct technique so that you box, kick elbow or knee safely, effectively and look impressive doing it too!He has even been known to get his head gear on and let you go for it. Trust me when I tell you that this provides a great adrenaline rush and is really safe and satisfying as he lets you hit him without hitting you back (unless you are more advanced). Sparring is lots of fun and a heart-thumping workout! It is always great to watch beginners do this with Owen as they are really hesitant at first and then really get into it, look forward to it and ask for it.
Originally from the UK and an avid Arsenal supporter (!!!), he is one of the most passionate boxing trainers in the industry, he has ran his own boxing and Muay Thai gym and lives and breathes the sport. He walks the walk and talks the talk (as you can see from his pic).
---
jade pearlman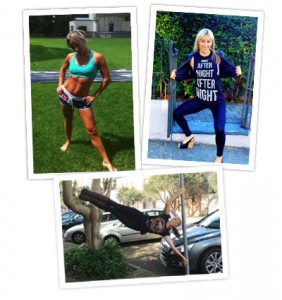 Jade has been in the industry for many years as a personal trainer and Les Mills group exercise instructor. She has a really cool, high energy, infectious happy vibe going on. Jade looks after most of our outdoor corporate group clients and brings that energy to all of the sessions she delivers.She has a really nice way of differentiating and making sure that all levels of fitness and all personalities are catered for in a friendly, team building type way. She encourages and challenges individuals in the groups to hit their level, whatever that may be.
Jade was British Gymnastics Champion age 13, 14 and 15 and has competed on the Olympic and International stage. She spent many years training in Russia with Olympic Champions and swung a Kettle bell before anyone in the fitness industry even knew what one was!
Jade even tried out for the UK version of Gladiators, came first place in the London fitness tests, auditioned as a contender and got offered a Gladiator role! Her pics demonstrate that she knows how to keep in shape and will help you do the same.
---
daniel bardallo
Dan's personal weight loss experience led him into the fitness industry and he is now our top 'fix it' trainer. He loves to problem solve. If he sees that some body part (or whole client!) isn't moving the way it, he or she was designed to move he uses his wide array of techniques and knowledge to get that person (or bit of that person) moving correctly, without pain and/or restriction. This means that Dan is known for getting amazing results and outcomes. Once he has 'fixed' you, Dan loves nothing more than to put you through a 'hit out session' (his name for challenging kick ass workouts).Dan is a man with lots of other talents. He is fluent in Spanish, can play the drums, salsa dance (I think I might get into trouble for mentioning this… I know it is more about his heritage rather than something he does regularly, and is a casual working DJ, mixing his beloved House music in top venues around Sydney. I believe that there are probably a lot more talents that we do not know about as he is a humble guy that likes to walk the walk and let others talk.
---